Succession
I am a fully certified Succession fan. Those of you who are already into the show will know why but for those of you who haven't yet drunk the kool aid - a binge watch of HBO's brilliant show would be a most epic way to spend some time relaxing over the holidays. (Because women always get to relax over the holidays).
To be honest I am jealous of those of you who have yet to experience the delicious dialogue and performances that this show puts out on the reg.

Why am I so obsessed? What is it about these generally loathsome characters that keeps fans coming back for more?  The show has absolutely tapped into some truly Shakespearean energies and themes.  The family dynamics of power, wealth, corruption and abuse infuse this story with treachery and misery. And yet, Succession doesn't take itself all that seriously. For all the drama and tension there is a slight wink in the writing and performances that lets you know that they are all in on the joke in some way.  
There isn't an episode where I don't want to rewind so I can write down phenomenal come backs or a fabulous insult.  And it's a great way to up your meme game.
WEB3
I'm spending far too much of my free time (because I have hours of it;) trying to learn as much as I can about web3, crypto, NFTS and the decentralized internet. I still know nothing. At least that is how it always feels. That said - my mind is racing with the possibilities of what can and what will be.  I also find watching Jack Dorsey, founder of Twitter, return to Twitter with hot takes super entertaining as he takes on VCs and their approach to the decentralized web. 
How does all of this fit into what we do here at SophieGrace? Well, I am not entirely sure yet but I am exploring how we can bring more virtual experiences to the shopping process and how it is that we could use NFT's to lock in access to presales or limited edition runs of products. Like all new technologies - the initial spurts of things tend to be entirely impractical but they find their place in the world finally through useful applications. 
This space excites me primarily because of the explosion of the creator economy and the ability for artists to secure ongoing royalty payments for their work through code in the blockchain. I know a few artists who have been minting works this past year and this technology has literally changed their financial circumstances for the better.  
So last month I got myself a MetaMask wallet and registered sophiegrace.eth on OpenSea. And no, I have no idea yet what I am going to do with it. Beware though - there is so much bullshit in this space and there is so much random information out there that it will be a bit before the reality and sustainability of the opportunities will be clear to us.
If you want to learn more about I found this conversation to be one of the most enlightening:  
https://open.spotify.com/episode/3U4wMKyvMUhB83qf8FaA3I?si=3rdyvEO5S7ayBsmGMHlDBA
https://open.spotify.com/episode/3U4wMKyvMUhB83qf8FaA3I?si=3rdyvEO5S7ayBsmGMHlDBA
Of course this might sum everything up best:
 "Club Penguin was the Original MetaVerse."  Dr. Parik Patel
It's Christmas music time. And because we are an online retailer our staff are not subjected to listening to the same Christmas soundtrack on repeat.  As a true Canadian  - I maintain that Michael Buble's Christmas Album is the best there is should you choose to participate. 
http://https://open.spotify.com/album/7uVimUILdzSZG4KKKWToq0?si=9IZY2rUJQyuBDuuvan30Iw https://open.spotify.com/album/7uVimUILdzSZG4KKKWToq0?si=9IZY2rUJQyuBDuuvan30Iw
I'm open to suggestions for what comes after this….
Speaking of suggestions….
In September of this year I travelled to Italy with an inspiring group  of people. Writer Jill Filopic ( @jillfilopic) and her bestie Yoga Instructor Emily Shapiro run Yoga retreats around the world. It is generally a small group of women (some dudes sometimes…) who get together in gorgeous places around the world to participate in writing workshops (do not hold my writing against Jill), yoga sessions, phenomenal meals and great  connections. The last retreat was held at an organic farm in Italy run by Ariane Lotti. Ariane grew up in the US and was a sustainable farming lobbyist in DC before she inherited the family farm from her grandfather. She moved to Italy and converted the rice farm into one of the first organic enterprises in the coastal Tuscan area. TenutaSanCarlo.com has rustic apartments overlooking cow paddocks, pine tree groves and rice fields. Old but wildly functional bikes take you to the beach 3km away and chef's from local restaurants provide breakfast and coffee that leave you wishing breakfast was the only meal of the day until you have lunch….and then…
 So if you are looking for a great list to get on for possible retreats with lovely folks shoot Emily Shapiro a note at emily@loveandkale.com. She is truly a lovely human and her yoga classes are always an epic exploration of somatic movement to perfectly constructed playlists. 
 What hit home for me on this last trip to Italy though - were the writings of my fellow travellers. At the end of the week we all shared pieces we had been working on. Mine was a strange story I crafted about an onion and the great lengths I will go to to avoid the tears. But my new friends wrote incredible reflections on living with chronic disease, growing up with a family rocked by mental illness, love and loss, and comedic adventures that had us crying with laughter at the dinner table. And I thought about all the stories that need to be told. I wondered if we could create a platform here that would give our community and friends a place to tell their stories. We are building out a new site and part of what we are building includes a place for you.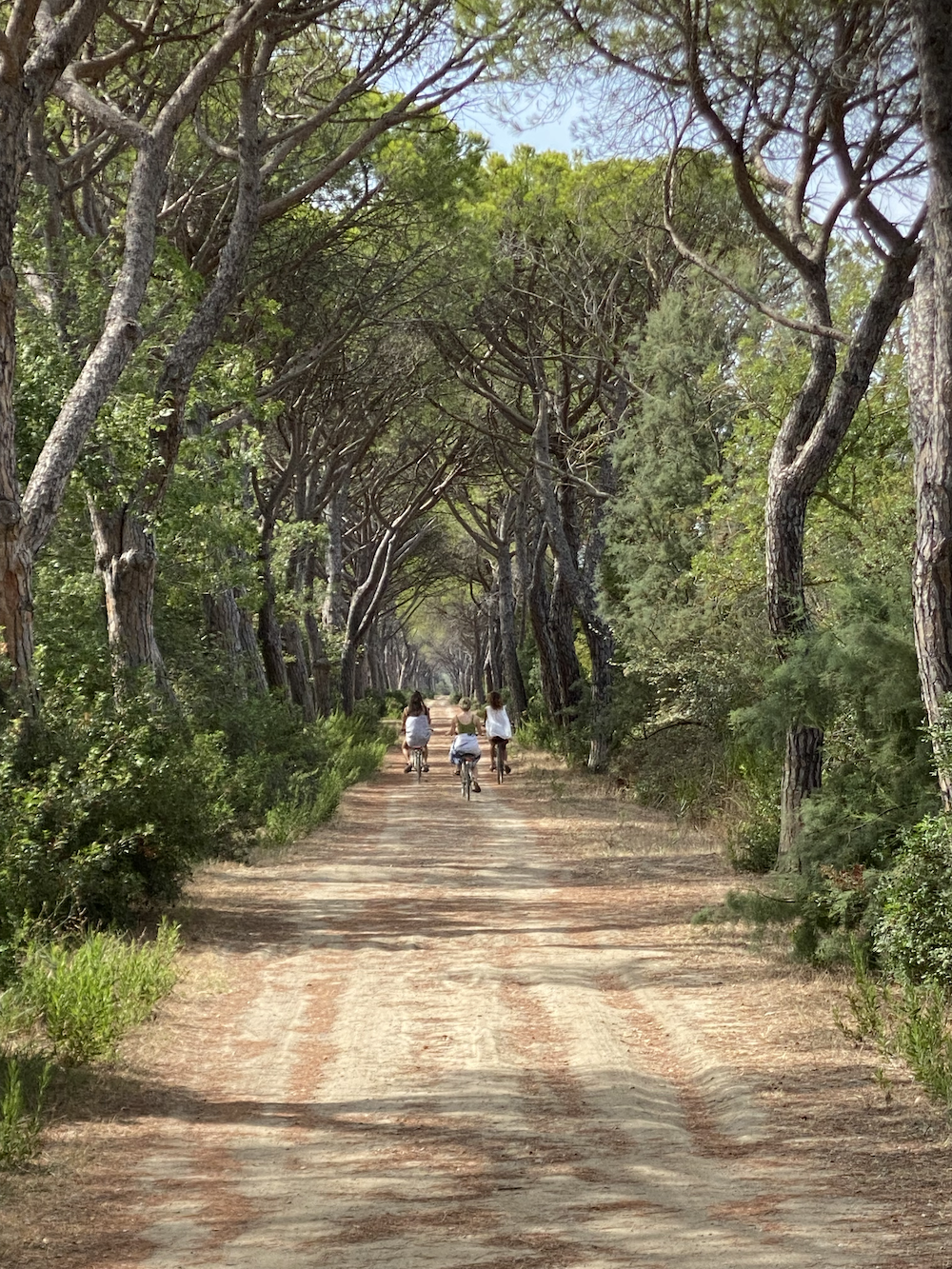 Looking Back And Looking Forward
Who starts a workwear line in a pandemic? 
Me. 
Who is sick of the pandemic? Every living human being. 
Who is even more sick of the pandemic than every living human?  Every single frontline worker out there. 
But it's back. And we are once again limiting our contacts and generally adjusting back to the wave grind we all loath so much. 
Over the past two years we have really dug into ensuring that we are giving you pieces that mean you won't sacrifice comfort to look more put together than pajamas. And we aren't giving up on that. Our line plan for this year includes more super comfortable shift dresses, wrap dresses, a new silk line of dresses and blouses, some wide leg pants, and a new wool suiting collection that includes several different cuts of blazers.  
We are bringing out more sizes, some petite pants and some longer pants too.
I am incredibly grateful to our small team here at SophieGrace. There are 6 of us at the moment. Myself, Lisa who is in charge of production, Carl who leads customer engagement, Therese who is customer service, Jess, our designer and Elle who has taken over managing shipping and our Vancouver showroom. This crew makes the vision a reality and everyone is doing 8 jobs it seems. Startup life is never not exciting. 
We have big plans to grow. I spent this past week working on our financial model and we are raising money to supercharge our growth these next few months. We want to offer you more styles, develop sustainable luxury fabrics, expand into accessories and ensure we become more and more inclusive in our offerings. It takes us between 4 and 12 months to develop a new product and we need a bit of runway in order to make that happen. We also are aiming to do this in a way that aligns with our values.  We are exploring working with a platform that would allow our customers to also become our investors.  
So thank you for being part of our community. Thank you for signing up for our newsletter. (If you didn't and made it all the way to here, well thanks for that too…) 
With that I wish you a safe holiday season. Looking forward to 2022. And the end of this gong show pandemic.
Warmest Regards,
Emma May
Founder